IX Konferencja Modelowanie Matematyczne
w Fizyce i Technice (MMFT'2017)


Termin: 18-21.09.2017 r.
Miejsce: Poraj, Ośrodek rekreacyjny "Leśna Radość"
Organizator:
Politechnika Częstochowska
Wydział Inżynierii Mechanicznej i Informatyki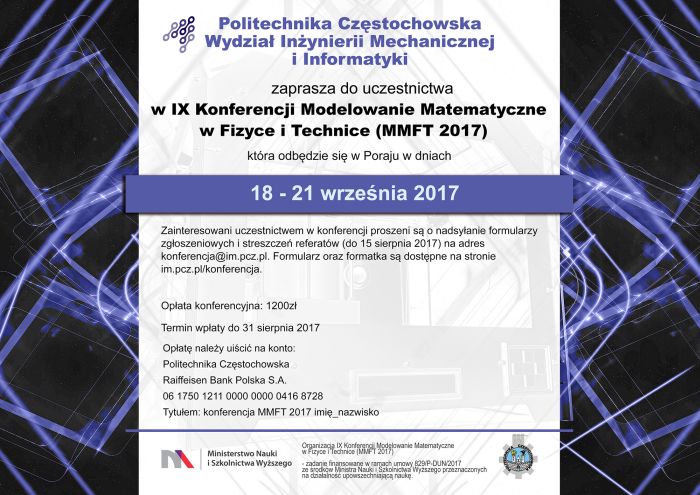 Plakat do pobrania: format PDF (21 MB)

Komitet naukowy:

Tomasz Błaszczyk PCz
Jan Čapek UP
Mariusz Ciesielski PCz
Zbigniew Domański PCz
Andrzej Drzewiński UZ
Andrzej Grzybowski PCz
Małgorzata Klimek PCz
Bohdan Kopytko PCz
Mariusz Kubanek PCz
Stanisław Kukla PCz
Adam Kulawik PCz
Jacek Leszczyński AGH
Zhibing Li SYSU
Valerie Novitzká TUK
Antoni Pierzchalski UŁ
Jolanta Pozorska PCz
Zbigniew Pozorski PP
Piotr Puchała PCz
Grażyna Rygał AJD
Norbert Sczygiol PCz
Urszula Siedlecka PCz
Krzysztof Sokół PCz
William Steingartner TUK
Jerzy Winczek PCz
Izabela Zamorska PCz

Komitet organizacyjny:

Zbigniew Domański
Andrzej Grzybowski
Marek Błasik
Tomasz Błaszczyk
Mariusz Ciesielski
Jolanta Pozorska
Urszula Siedlecka
Izabela Zamorska
Ulotka konferencji: Pobierz plik PDF (5.5 MB)
Lista uczestników: Pobierz - PDF
Program wykładów: Pobierz - PDF
Streszczenia wykładów: Pobierz - PDF (2.7 MB)
Monografia pokonferencyjna: Selected Topics in Contemporary Mathematical Modeling, Editor: A.Z. Grzybowski, Publishing Office of Czestochowa University of Technology, Czestochowa 2017, ISBN: 978-83-7193-668-5
---
Zaproszeni Wykładowcy:
Jan Čapek, University of Pardubice (Czechy)
Andrzej Drzewiński, Uniwersytet Zielonogórski (Polska)
Zhibing Li, Sun-Yat Sen University (Chiny)
Valerie Novitzká, Technical University of Košice, (Słowacja)
Antoni Pierzchalski, Uniwersytet Łódzki (Polska)
Zbigniew Pozorski, Politechnika Poznańska (Polska)
---
Zainteresowani uczestnictwem w konferencji proszeni są o nadsyłanie formularzy zgłoszeniowych i streszczeń referatów (do 15 sierpnia 2017) na adres konferencja@im.pcz.pl .
Formularz zgłoszenia: Pobierz - DOC
Abstract preparation guideline: Download - DOC
Streszczenia wszystkich zaakceptowanych referatów zostaną zamieszczone w materiałach konferencyjnych. Ponadto wskazane przez Komitet Programowy najoryginalniejsze prace prezentujące wysoki poziom naukowy zostaną zarekomendowane do publikacji w rozszerzonej wersji w czasopiśmie Journal of Applied Mathematics and Computational Mechanice (indeksowane w bazie "Emerging Sources Citation Index" - Web of Science).
---
Opłata konferencyjna: 1200 zł

Termin wpłaty do 31 sierpnia 2017

Opłatę należy uiścić na konto:
Politechnika Częstochowska
Raiffeisen Bank Polska S.A.
06 1750 1211 0000 0000 0416 8728
Tytułem: konferencja MMFT 2017 imię_nazwisko

Opłata obejmuje materiały konferencyjne, wyżywienie oraz nocleg.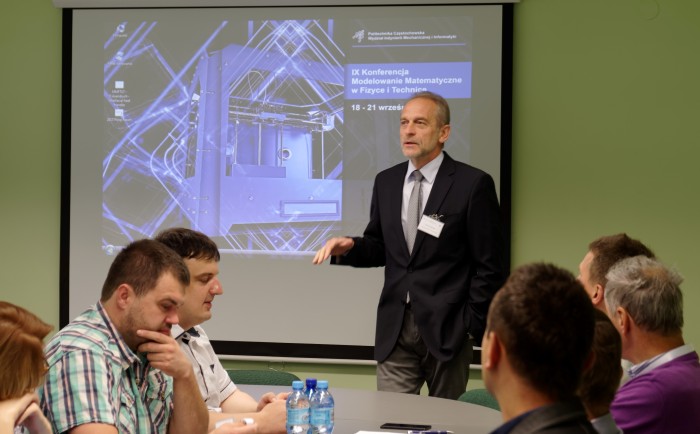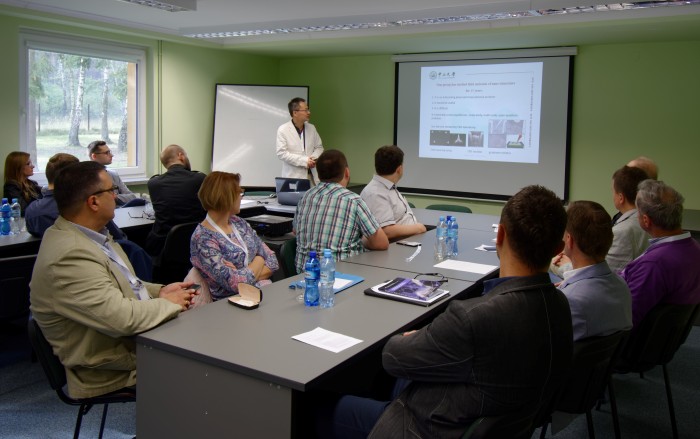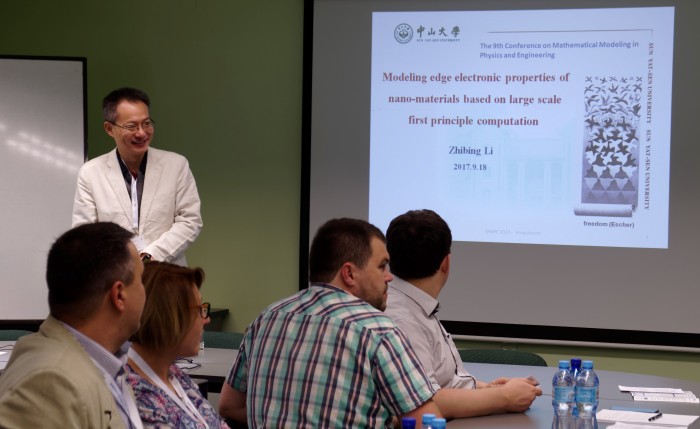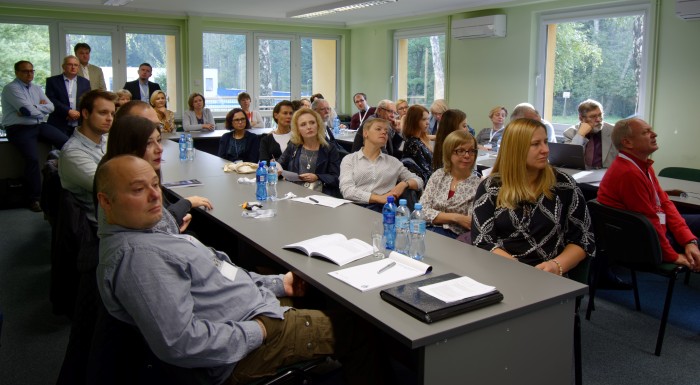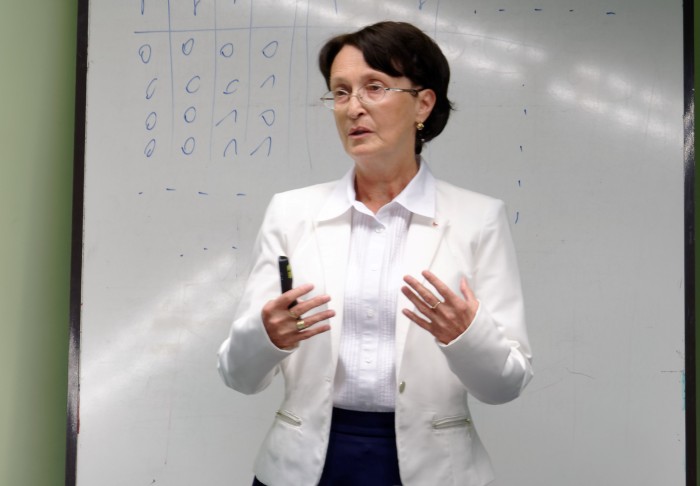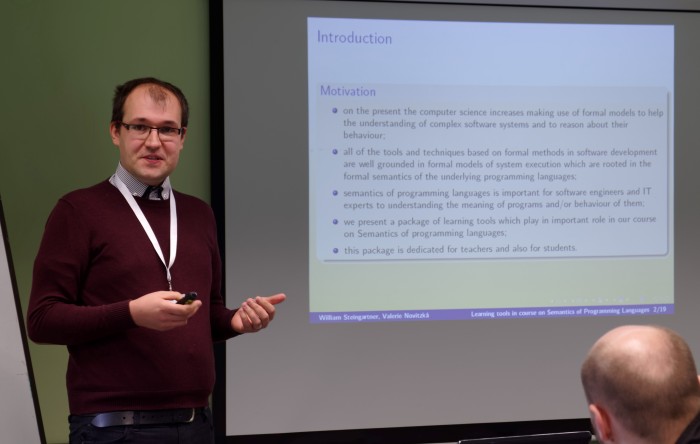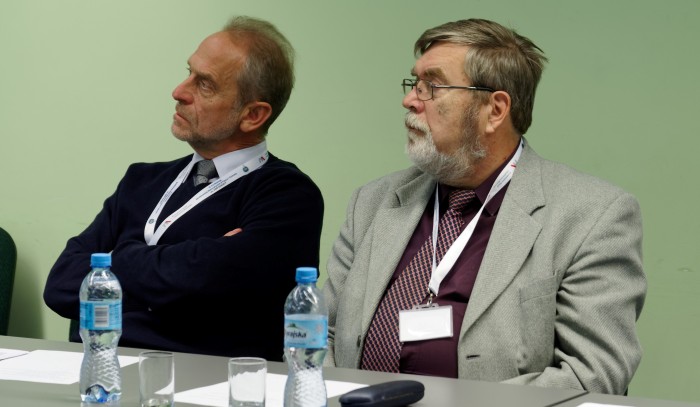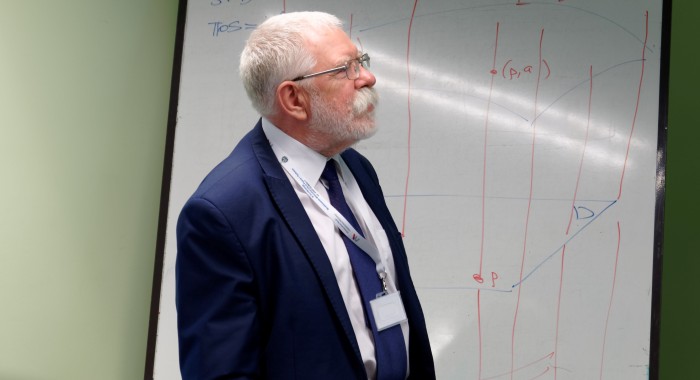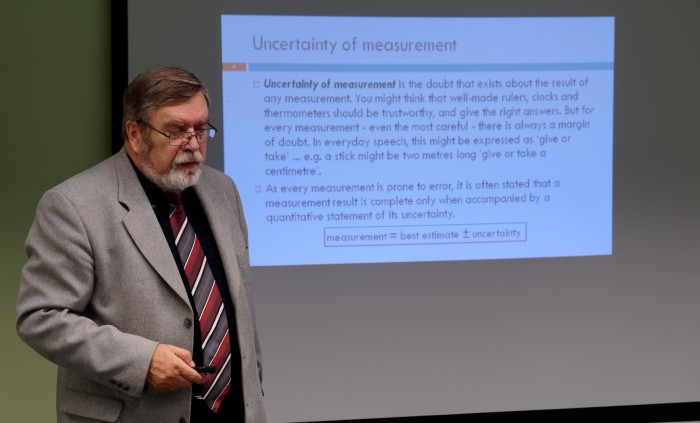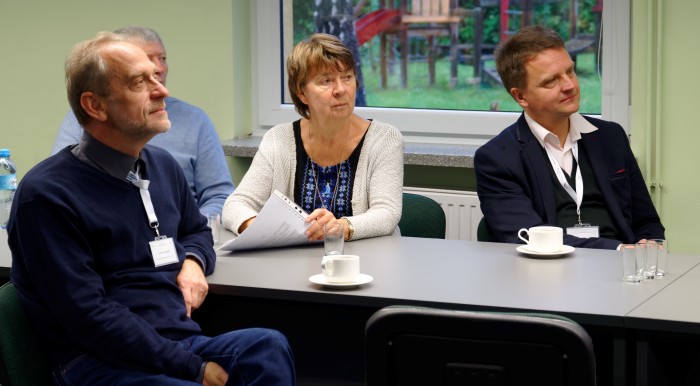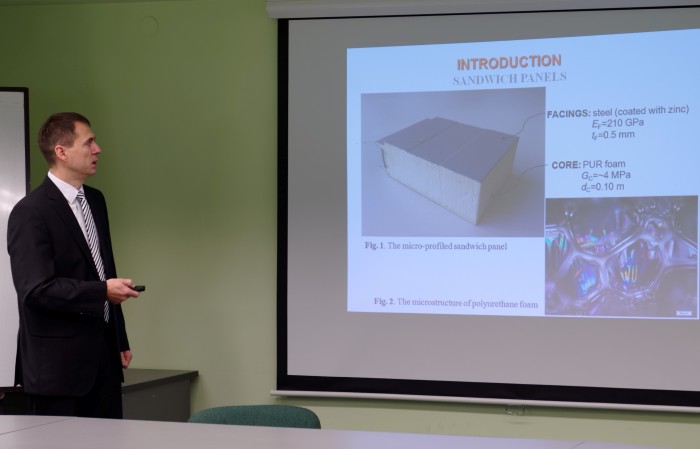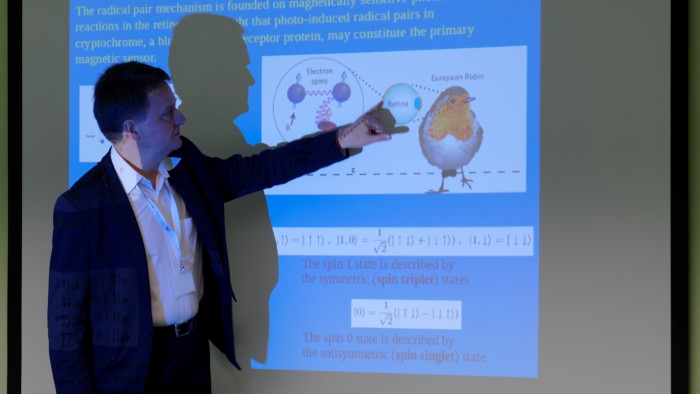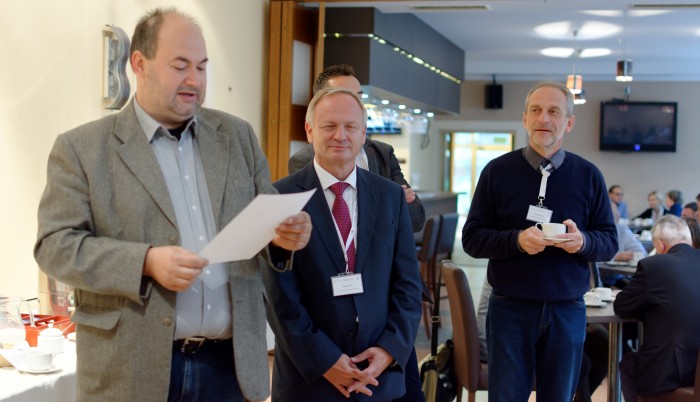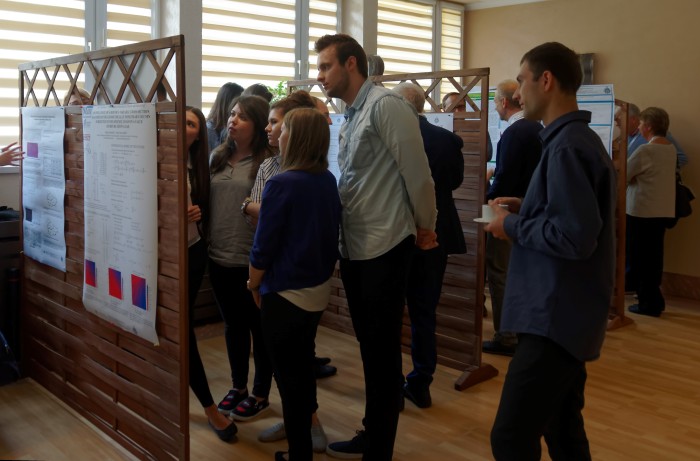 Więcej zdjęć: ALBUM
Materiały konferencyjne:


Invited lectures
Jan Čapek, Martin Ibl
UNCERTAINLY MEASUREMENT
PDF
Video
Andrzej Drzewiński
QUANTUM ENTANGLEMENT IN AVIAN NAVIGATION
PDF
Video
Zhibing Li
EDGE ELECTRONIC PROPERTIES OF NANO-MATERIALS BASED ON LARGE-SCALE FIRST-PRINCIPLE COMPUTATIONS
PDF
Video
Valerie Novitzká, William Steingartner
COALGEBRAS FOR MODELLING BEHAVIOUR
PDF
Video
Antoni Pierzchalski
DIFFERANTIAL OPERATORS - THE ELLIPTICITY AND ITS APPLICATIONS
PDF
Video
Zbigniew Pozorski
NUMERICAL ANALYSIS OF SANDWICH PANELS SUBJECTED TO TORSION
PDF
Video

Lectures
Dariusz Asendrych, Paweł Niegodajew
MODELLING INTERFACIAL HEAT TRANSFER IN A 2-PHASE FLOW IN A PACKED BED
PDF
Video
Grzegorz Biernat
THE PROOF OF REMARK ON THE JACOBIAN CONJECTURE
PDF
Video
Mariusz Ciesielski
ANALYTICAL AND NUMERICAL SOLUTIONS OF DIFFERENT TYPES OF EQUATIONS USED FOR MODELING HEAT CONDUCTION UNDER LASER PULSE HEATING
PDF
Video
Katarzyna Gospodarek
THE USE OF THE IMAGE PROCESSING AND ANALYSIS METHODS FOR OPTIMIZATION OF EQUATIONS OF MOTION FOR A QUADRUPED ROBOT
PDF
Video
Nadiya Gubareni
REPRESENTATIONS OF RIGHT HEREDITARY TENSOR ALGEBRAS OF BIMODULES
PDF

Bohdan Kopytko, Roman Shevchuk
ON TWO-PARAMETER FELLER SEMIGROUP WITH NONLOCAL CONDITION FOR ONE-DIMENSIONAL DIFFUSION PROCESS
PDF
Video
Joanna Kulawik
COMPARISON OF FREAK AND SURF ALGORITHMS FOR RECOGNIZING KEY ELEMENTS FOR TIME-VARYING IMAGES
PDF
Video
Mirosław Kurkowski
DIRECT SAT-BASED CRYPTANALYSIS OF SOME SYMMETRIC CIPHERS
PDF
Video
Zbigniew Pozorski, Łukasz Janik
NUMERICAL ANALYSIS OF SANDWICH PANEL SUBJECTED TO MULTIPLE STATIC CONCENTRATED LOADS
PDF
Video
Piotr Puchała
ON A WEAK L1 CONVERGENCE OF DENSITIES OF HOMOGENEOUS YOUNG MEASURES
PDF
Video
Tomasz Starczewski
REMARKS ON THE IMPACT OF THE ADOPTED SCALE ON QUALITY OF PRIORITY ESTIMATION
PDF
Video
William Steingartner, Valerie Novitzká
LEARNING TOOLS IN COURSE ON SEMANTICS OF PRORGAMMING LANGUAGES
PDF
Video
Sabina Szymoniak, Olga Siedlecka-Lamch, Mirosław Kurkowski
SAT-BASED VERIFICTION OF NSPKT PROTOCOL INCLUDING DELAYS IN THE NETWORK
PDF
Video
Sebastian Uzny, Łukasz Kutrowski
EFFECT OF TORSIONAL RIGIDITY BETWEEN ELEMENTS ON FREE VIBRATIONS OF A TELESCOPIC HYDRAULIC CYLINDER SUBJECTED TO EULER'S LOAD
PDF
Video

Posters
Kamila Bartłomiejczyk
MODELLING OF QUASI-COHERENT DISPLACEMENT IN CHAIN-LIKE BODIES' MOVEMENT
PDF

Marek Błasik
A REVIEW OF NUMERICAL METHODS FOR FRACTIONAL ORDINARY DIFFERENTIAL EQUATIONS
PDF

Tomasz Błaszczyk, Jarosław Siedlecki
APPROXIMATION OF FRACTIONAL INTEGRALS BASED ON B-SPLINE INTERPOLATION
PDF

Tomasz Błaszczyk, Jarosław Siedlecki
THE SIMPSON'S RULE FOR FRACTIONAL INTEGRAL OPERATORS
PDF

Janusz Bobulski
FACIAL ASYMMETRY IN 3D FACE RECOGNITION
PDF

Jolanta Borowska
TRIDIAGONAL TOEPLITZ SYSTEMS
PDF

Lena Caban
THE EIGENFACES METHOD
PDF

Anita Ciekot
THE POLYNOMIAL INTERPOLATION BY THE KRONECKER TENSOR PRODUCT
PDF

Tomasz Derda
MIXED-MODE LOAD TRANSFER IN THE FIBRE BUNDLE MODEL OF NANOPILLAR ARRAYS
PDF

Oliwia Fertacz, Agata Paluszewska
FUNCTIONS OF BOUNDED VARIATION AND THEIR PROPERTIES
PDF

Oliwia Fertacz, Agata Paluszewska
FUNCTIONS OF BOUNDED VARIATION AND THEIR PROPERTIES
PDF

Katarzyna Freus, Sebastian Freus
ALGORITHM OF REBUILDING A BOUNDARY OF DOMAIN DURING CREATION OF AN OPTIMAL SHAPE
PDF

Katarzyna Freus, Sebastian Freus
A DESIGN OF AN OPTIMAL SHAPE OF DOMAIN DESCRIBED BY NURBS CURVES USING THE TOPOLOGICAL DERIVATIVE AND BOUNDARY ELEMENT METHOD
PDF

Andrzej Grosser, Grzegorz Michalski
PEGCPP - AN EFFICIENT IMPLEMENTATION OF PARSER GENERATOR IN C++
PDF

Aneta Idziak-Jabłońska, Karolina Karczewska, Olga Kuberska
MODELING OF MECHANICAL PHENOMENA IN THE PLATINUM-CHROMIUM CORONARY STENTS
PDF

Anna Jurczyńska, Janusz Szmidla
AN INFLUENCE OF A ROD OF A VARIABLE CROSS-SECTION AS A PART OF GEOMETRICALLY NONLINEAR COLUMN SUBJECTED TO THE SPECIFIC LOAD ON A VALUE OF BIFURCATION LOAD
PDF

Stanisław Kukla, Urszula Siedlecka
MODELLING OF HEAT CONDUCTION IN A COMPOSITE SPHERE USING FRACTIONAL CALCULUS
PDF

Sylwia Lara–Dziembek
ALGEBRAIC DEPENDENCE OF POLYNOMIAL MAPPINGS HAVING TWO ZEROS AT INFINITY
PDF

Maria Lupa
SOLUTIONS OF SOME FUNCTIONAL EQUATIONS IN A CLASS OF GENERALIZED HOLDER FUNCTIONS
PDF

Lena Łacińska
LINEAR RECURRENCES ALGORITHM FOR SOLVING TRIDIAGONAL SYSTEMS WITH IMPLEMENTATION IN MAPLE
PDF

Bartłomiej Macherzyński, Maria Włodarczyk-Makuła, Ewa Ładyga, Władysław Pękała
COMPARISON OF PARAMETERS CO-FERMENTATION PROCESS OF MUNICIPAL SEWAGE SLUDGE WITH EXCESS SEWAGE SLUDGE FROM TREATED COKING WASTEWATER
PDF

Grzegorz Michalski, Andrzej Grosser
IMPROVE COMPUTATIONAL EFFICIENCY WITH THE LATEST PROGRAMMING LANGUAGES
PDF

Edyta Pawlak
THE JACOBIAN HAVING NON-GENERIC DEGREES
PDF

Yuriy Povstenko, Joanna Klekot
THE DIRICHLET PROBLEM FOR THE TIME-FRACTIONAL HEAT CONDUCTION EQUATION WITH HEAT ABSORPTION IN A MEDIUM WITH SPHERICAL CAVITY
PDF

Jowita Rychlewska
FREE VIBRATION OF EULER-BERNOULLI BEAMS MADE OF AXIALLY FUNCTIONALLY GRADED MATERIALS
PDF

Magdalena Scherer
MULTI-LAYER NEURAL NETWORKS FOR SALES FORECASTING
PDF

Dorota Smorawa, Mariusz Kubanek
FEATURE EXTRACTION OF FOREARM-VEIN PATTERNS BASED ON REPEATED LINE TRACKING
PDF

Krzysztof Sokół
AN INFLUENCE OF THE PARAMETERS OF LOADING HEADS ON THE LOADING CAPACITY OF A DAMAGED COLUMN SUBJECTED TO A SPECIFIC LOAD
PDF

Katarzyna Szota
EXTENDED THE TEMPERATURE ACTIVATION OF CARBON SATURATION STEEL PROCESS
PDF

Wioletta Tuzikiewicz
THE PROBLEM OF FDM EXPLICIT SCHEME STABILITY
PDF

Ewa Węgrzyn–Skrzypczak, Tomasz Skrzypczak
ANALYTICAL AND NUMERICAL SOLUTION OF THE HEAT CONDUCTION PROBLEM IN THE ROD
PDF

Jerzy Winczek, Krzysztof Makles
INFLUENCE OF GROOVE WELD ON RESIDUAL STRESSES IN SINGLE-PASS BUTT WELDED JOINTS WITH THOROUGH PENETRATION
PDF

Paweł Zając, Oleg Tikhonenko
QUEUEING SYSTEMS WITH LIMITED BUFFER SPACE AND LIMITED QUEUEING TIME
PDF